Cranford Patch article
The Story of a Retired Teacher and Her Gentle Giants

A local woman breeds large cats called Maine Coons.
By Kristin Thorne | July 14, 2010
Photo credits: Kevin Papa
When Brenda Flahault retired many years ago from teaching, she knew she wanted a hobby. A cat lover, she thought maybe she would breed cats, but not just any cat. Flahault was thinking about Maine Coons — the largest breed of kitty there is. In fact, the cats are so large that they're commonly known as the "Gentle Giants."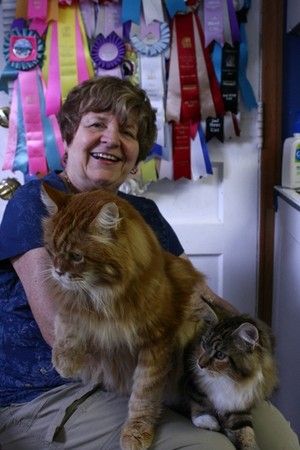 Flahault, who's from Union County, attended a cat show in New York City where she met a breeder and later bought a Maine Coon — she named him Cabernet Sauvignon. The first time Flahault decided to show Cabernet in a cat show, he won the title of the second best Maine Coon in the world.
"Isn't that beginner's luck," Flahault said laughing.
Now, about thirteen years later, Flahault has raised about a dozen of the Gentle Giants under her cattery called Mellow Maines. There's been every cat from Marsala, Harvest Red and Kendall Jackson to Cianti, Sparking Red and Shiraz. Needless to say, Flahault loves wine. And then there's Abigail, the female cat Flahault bought to breed with Cabernet.
"She's not a wine but she already had a name when I bought her," Flahault said.
The Maine Coon can weigh up to 28 pounds and can be as tall as three feet when standing on its back legs. They retrieve balls, jump in the air and love chasing after small animals, Flahault said.
In fact, the history of the Maine Coon is that it was brought on colonial ships to kill rats. Flahault said people then noticed the warm temperament of the cat and decided to let it play with the children on the boat. Its name comes from the state of Maine, where many of the ships docked and left from. The "coon" part of the name comes from the fact that the cats have striped tales like raccoons, Flahault said.
For Flahault, however, her Maine Coons are more than cats, they're like her children. She has ten of them right now, from five months old to 13 years old. She's going to be breeding another one in the near future.
If you're curious about Flahault's Maine Coons, she will be bringing some of them to the Garden State Cat Club Cat Expo and Show this weekend in Somerset.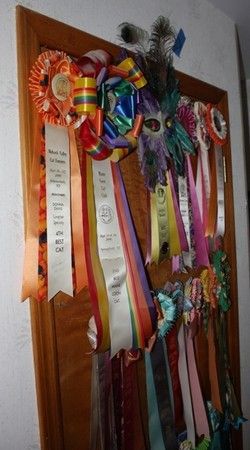 The 74th annual event is sponsored by the Garden State Cat Club of which Flahault is a long-time member. More than 500 cats will participate in various competitions, one of which is feline agility. The cats jump through hoops and perform various aerobatic tricks.
Flahault said up to 5,000 people may attend the event, which will also feature feline CPR demonstrations and a cat psychic. Yes, a cat psychic. Flahault said the psychic looks at a cat and determines what its thinking, what it needs and if it's in the right home.
For Flahault, the highlight of the event is the adopt-a-thon. About 70 cats will be available for adoption. They will also compete in their own performance division, despite the fact that they have no formal training.
Flahault said she always enjoys bringing her Maine Coons to the show and seeing how excited everyone gets to see them.
"Just the look in their eyes when they see the massiveness and the gentleness," Flahault said.
The Garden State Cat Club Cat Expo and Show takes place this Saturday and Sunday from 10 a.m.- 4 p.m. at the Garden State Exhibit and Convention Center in Somerset. Animal Planet will be filming this year's event. Tickets are $10 for adults, $6 for children and seniors.
Money raised from the event will go to support the Garden State Cat Club's charity fund. The club sends money to help rescue cats across the country after natural disasters, Flahault said.
Note - the original article (with more photos) can be found on the Cranford Patch website.
---
© 2013 Brenda Flahault
No content may be copied or altered without express written consent