Our Males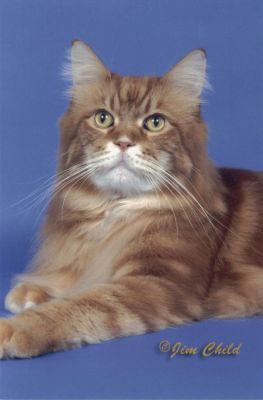 GC, RW, GP, RW Calabash's Cabernet Sauvignon

b. 6/1997
A true "Gentle Giant" "Savvy" came to us from Merry and Peter Braun of Calabash in Connecticut. Originally bought as a pet, he made amazing strides, becoming Second Best Maine coon in the country in 1998-99 in the Cat Fancier's Association. He is known for his persistant staring at the audience and ignoring the judge. He simply shows himself.
We currently have three whole males sired by Savvy, and they are all Grand Champions and NAR regional winners; therefore we had him neutered, believing he had done his "job" well.
Savvy is still a delightful pet, and he went back to the show circuit as a Grand Premier in the 2003-4 show season when he earned another win and was 5th best Maine Coon nationally.
We are proud of Savvy because he has attained the title Regional Winner twice, and has stayed in good shape, winning the title at almost 7 years of age!
He will be appearing in Parade of Breeds and Veterans rings occasionally.

GC, RW Mellowmaines Harvest Red

b. 11/1998
Out of our GC, RW Calabash's Cabernet Sauvignon and our queen CH Mainlycoons Anna Pavlova of Skimble, "Harvey" was the first Grand and Regional Winner of our breeding, and he has sired some lovely litters for us. He continues to enjoy his "work".
Although he "sings" in a high falsetto voice, he is the true Casanova of the cattery.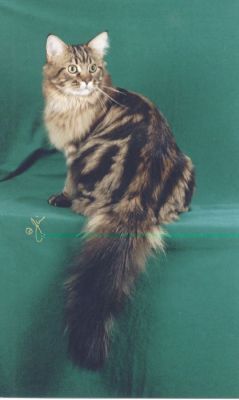 GC, RW Mellowmaines Extra Brute

b. 12/1999
Brute, named for his size and also for champagne, is out of GC, RW Calabash's Cabernet Sauvignon and CH Lakecountry Abigail of Mellowmaines.
He is the first classic brown we have campaigned. Despite his massive size, he is a lap cat who loves to give hugs and headbutts, and he has produced some lovely browns, patches, and reds, some of whom have become show cats and breeders.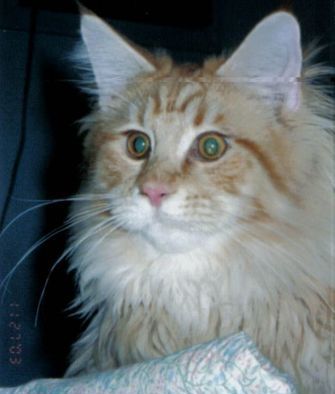 GC Mellowmaines Valpolicello

b. 4/18/03
"Valley" is a huge red affectionate male who will become part of our breeding program. He is out of Ch Avicats Lambrusca of Mellowmaines and Mellowmaines GC, RW Extra Brute.
One of our largest cats at just a year old, he loves to give kisses and headbutts.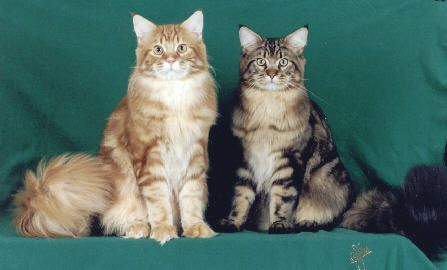 GC, RW Mellowmaines Sparkling Red & GC, RW Mellowmaines Beau Jolais

b. 10/2001
These brothers performed a "miracle" for us in the 2002-03 CFA show season, both becoming Grand Champions and NAR Regional Winners, and they also were 2nd and 3rd Best of Breed Maine Coons in the region although they showed against each other.
They are out of GC, RW, GP Calabash's Cabernet Sauvignon and CH Lakecountry Abigail of Mellowmaines.
We couldn't decide which kitten to keep when they were young, and the judges' opinions varied from week to week so we elected to accept the challenge of showing them both at the same time. They enjoyed traveling together so we rarely split them up.
To date, we feel this double Regional Win is our greatest accomplishment. "Sparky" also was honored to receive "Best Other Tabby Colors Maine Coon" nationally.
It was a difficult decision to finally have to choose one brother, but Beau is now living in a pet home in NJ while "Sparky" remains with us for stud purposes and perhaps future campaigning.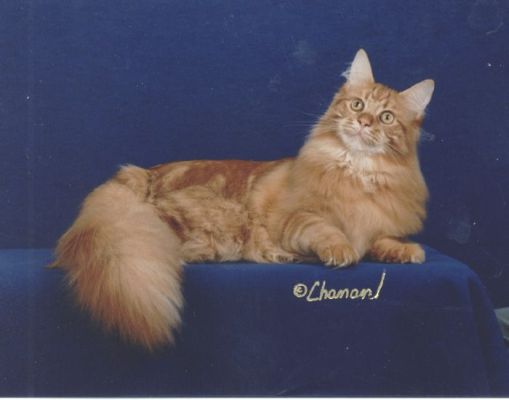 GP Mellowmaines Solo Soave

b. 2000
Solo, a huge, loving neuter now lives in Neptune, NJ.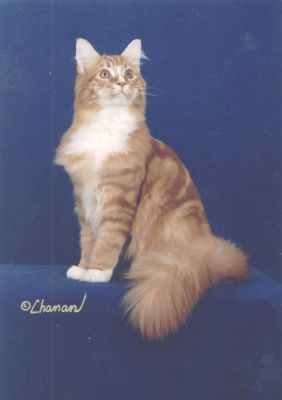 GC Mellowmaines White Zinfandel

"Deli" was NAR's 3rd Best MC and moved in with a family in South Jersey.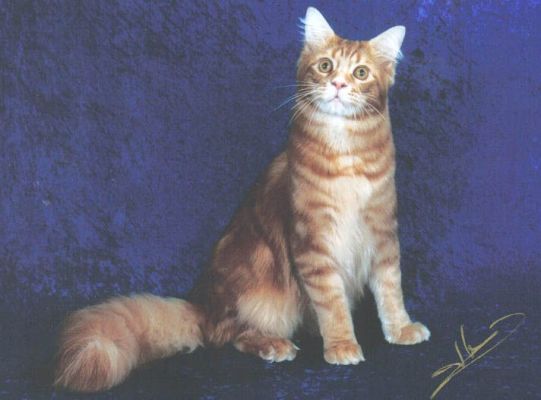 GC Mellowmaines Merlot

b. 2/14/03
GC Mellowmaines Duddy's Merlot ("Murray") is out of CH Skimble's Madeira of Mellowmaines and GC, RW Mellowmaines Harvest Red.
He has an amazingly boxy muzzle and loves playing in the show ring!
He recently moved to Upstate New York with his new family and began a career in Premiership in Sept. 04.

GC Mainlycoons Chianti of Mellowmaines

b. March 23, 2005
Chianti is a nicely patterned vivid red classic tabby and white male out of our GC, RW Mellowmaines Sparkling Red ("Sparky") and CH Mainlycoons Coki.
Judges comment on his excellent boning and heavy muscle. He is gentle and when he "talks," he "neighs" like a horse, but quietly. This was a total surprise because his father's meow is like the quack of a duck!
When Chianti is on the road campaigning, he thorougly enjoys hotels. Eventually his role will be as a breeder, bringing cats with white back into our program.

---
© 2013 Brenda Flahault
No content may be copied or altered without express written consent